The KTI Kawada Group, of which Kawada Industries, Inc. is an integral part, comprises a diverse collection of businesses that serve society. The Group's companies carry out a broad range of functions, including building, maintaining and preserving infrastructure, creating efficient and convenient information systems, developing humanoid robots, protecting the global environment, gathering information in the event of natural disasters, and providing air transportation.
Since the Group's inception in 1922 until the present day and, as we look forward to our centenary in 2022, the KTI Kawada Group remains committed to its mission of creating a safe, comfortable and sustainable society for the future.
KTI Kawada Group 2019 Revenue Breakdown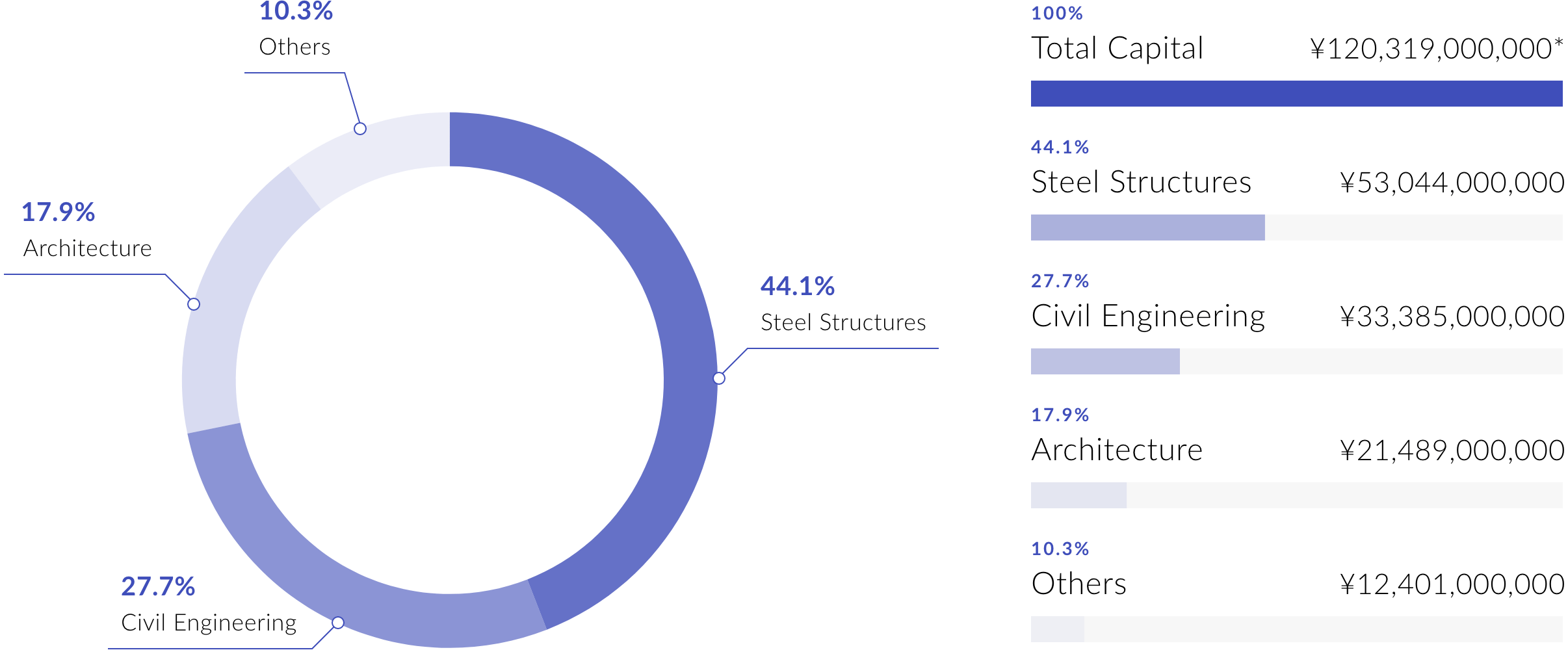 *As of 8 July 2019
Kawada Technologies
In 2009, the KTI Kawada Group established Kawada Technologies, Inc. as a holding company of the Group. Its purpose is to optimise the Group's future growth by establishing a management structure that maximises corporate value across all the Group's companies through greater integration and flexibility.
We selected the name "Kawada Technologies" because we wanted to create a brand that establishes the Group, and all its member companies, as an organisation recognised for contributing to the betterment of society through innovative technology.

(1971〜)
PresidentTadahiro Kawada
Kawada Technologies, Inc. is a holding company of the KTI Kawada Group.
Kawada Industries, Inc. the nucleus of the KTI Kawada Group, recognizes that each company within the KTI Kawada Group is able to contribute to society through its technological skills and understanding.
Looking to establish ourselves as one of the leaders of this association, we took the name "Kawada Technologies" to represent our desire for the KTI Kawada Group to become a corporate association that can contribute further to society through our technological developments and create greater unity amongst our corporate association.
Affiliated Companies
Kawada Industries, Inc. is complemented by a number of businesses within the KTI Kawada Group structure.
Our Industry Partners
Birkdale International Limited
Birkdale International Limited is a globally recognised, leading landscape contractor and our trusted partner in Hong Kong for installing the Midori-chan™ greening system.
Centaur Asia Pacific
(Singapore) Pte. Ltd.
Centaur Asia Pacific, with offices in Hong Kong, Singapore and Malaysia have consistently provided the best products and the highest level of support and after-sales services to hundreds of clients in the Asia Pacific Region. We are currently providing products and services to clients in public and private sectors that are constructing and maintaining roof-top and vertical gardens, landscapes, parks, home lawns, hotels & resorts, recreational facilities, golf courses, and sports fields.